Landesforum Jugendarbeit Hessen
Literal translation: Hesse State Youth Work Forum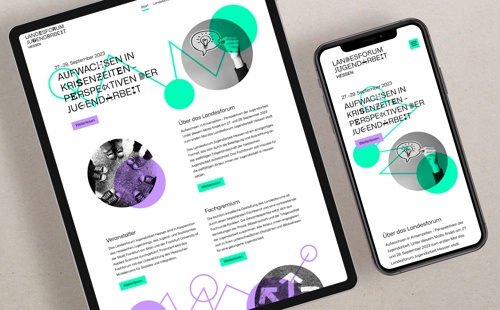 Under the title »Growing up in times of crisis - perspectives of youth work«, the Landesforum Jugendarbeit Hessen will take place for the first time on September 27 and 28, 2023. The unique event format is characterized by the participation and orientation to the diverse provider landscape of the Hessian youth work. The expert forum is intended to provide impulses for the diverse actors of youth work in Hessen.
The Landesforum Jugendarbeit Hessen is organized in cooperation with the Hessian Youth Ring, the Youth and Social Office of the City of Frankfurt on the Main and the Frankfurt University of Applied Sciences. The forum is financed with the support of the Hessian Ministry for Social Affairs and Integration.
For the Landesforum Jugendarbeit Hessen we developed a corporate design with a generative logo system that typographically visualizes the diversity and transformation of youth work.
Part of the design is also an adapted font consisting of 52 glyphs, which continues the concept of the logo system in the headlines of the website and the advertising material.