AStA of Goethe University Frankfurt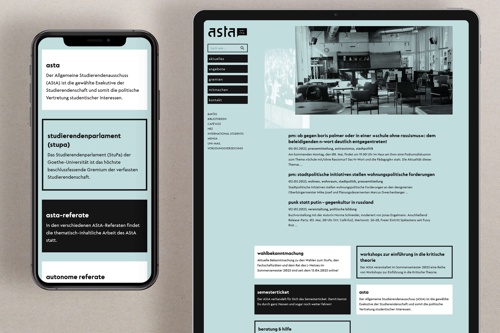 For the AStA (Allgemeiner Studierendenausschuss, literal translation: »general student committee«) of the Goethe University Frankfurt we designed and implemented the website. The website reflects the work of the AStA: It represents student interests, promotes student projects, organizes events and parties, and is the contact for student councils and other student groups. Among others, the AStA publishes the AStA newspaper, negotiates the cost of the semester ticket and other student benefits.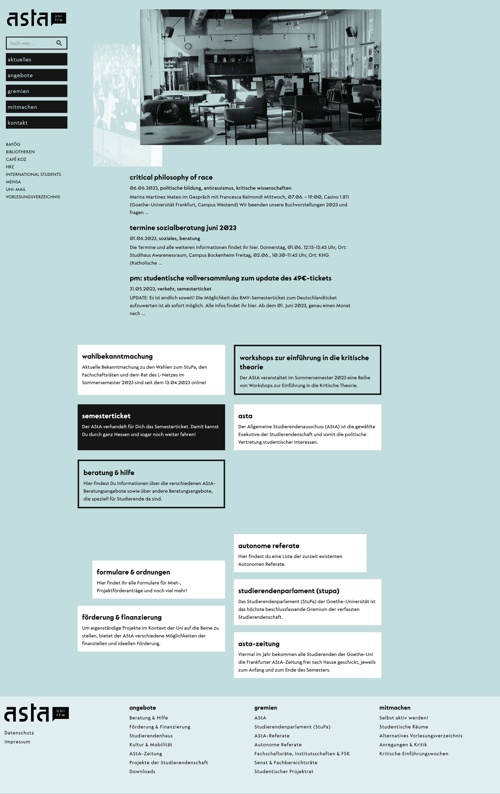 The website also promotes the advisory service of the AStA for topics such as BAföG (student loan), tenancy law and mobility. Information material on these and other topics are available for download. The content of the website is therefore very diverse and extensive, so special attention was paid to a clear structure in the design.
Due to the frequent change of the editorial team (the content is updated by the AStA representatives), the administration interface is kept simple and clear. There are user roles for the different areas of the website which can be assigned to individual editors.
Visit Website: asta-frankfurt.de